Prana Chai
Multi Pack 4 x 100gr Cold Brew Starter Kit
Get ready to celebrate, because now you can enjoy your Prana Chai all year round! A cold brew chai is perfect for lazy summer days when you still want to enjoy a refreshing Prana Chai without the heat.
Every cold brew kit comes complete with:
a jar of Prana Honey for those who like it sweet

#onlythegoodstuff double-walled glass brew bottle with filter basket and bamboo lid
Our Prana Chai recipe booklet, complete with 6 recipes to help you get more out of your masala chai.
The cold brew bottle means you can now drink your fave chai on the go. Just prepare your cold brew ahead of time and have it ready to go when you're on the run.
This kit makes a great gift for any chai aficionado in your life or is a brew-tiful treat for yourself when you've decided to up your chai game. Snap up a sticky chai cold brew kit from Prana Chai today.

Serves 5 cups per 100g; 20 cups per box.
Prana Chai Multi Pack 4 x 100gr Cold Brew Starter Kit ingredients
Peppermint
Turmeric
Clove
Pure Honey
Agave
Peppercorn
Ginger Root
Black Tea
Cardamom
Star Anise
Cinnamon
Flavour
Not too spicy and not too sweet. Prana Chai Masala is exceptionally well balance and easy to drink. Layered smoothness and sophisticated spicy finish make a unique taste profile. Our Vegan Blend is made with Agave rather than Honey, and our Turmeric blend is packed with anti-inflammatory curcumin. Peppermint is excitingly refreshing, exceptionally balanced and an easy to drink blend with a mint finish.
Consumption
Best served hot
Cold brew
Cooking
Benefits
Helps reduce nausea, prevents bacterial infections and supports proper digestion. Honey is a good antibacterial and a wonderful unprocessed sugar source. Agave nectar is a natural alternative to refined sugars, has a low glycemic index value, and is an ethical alternative to honey for vegans. Turmeric contains curcumin, a substance with powerful anti-inflammatory and antioxidant properties. Black peppercorn assists absorption of turmeric by up to 2000%. Peppermint blend improves digestion and reduces bloating by helping gas through the body.
How to make Prana Chai at home
Place two or three heaped teaspoons (20gr) of Prana Chai into a Turkish pot.
Fill with one cup of your favourite milk (we recommend Soy milk).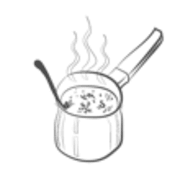 Stir until it is hot (but just before simmering).
Using a mesh strainer, pour your tea into your favourite tea cup.
REVIEWS
Surprising!

I'm not a fan of peppermint tea, but I am a huge fan of prana chai. So I was very surprised when I loved and continue to love the Peppermint Blend!

Fen, Australia
Outstanding Chai!

It all started in outback NSW, in a lovely little cafe called "The silly goat". The wonderful owner made me this delicious chai. Keen to know what it was, she told me all about it! As I was sipping away I got out trusty Google and found a starter kit and asked if they sold them. Sadly not. So I added it to my cart and the rest is history - 6 months down the track I'm still drinking it and just received my new cold brew flask. Can honestly highly recommend these guys and their products.

Lyle, Australia
Beautiful!

I love this kit!! The quality of the items is really nice. And even the box it comes in is beautiful. If you want to send as a gift you can have it sent directly to recipient as is, as the box is lovely and thick and pretty. I thought it was a bit if a waste buying the pot and the strainer etc as you can make do with what you have, but I did purchase as a gift and I now want one too, can't get over the lovely quality. It's great value!! Loved it xxx

Bre, Australia
My Morning Ritual

I just love your chai blends. I use my Thermomix to make a cup every day. A tablespoon of chai then pour in a cup of water complete with a big splash of soy milk. Crank up the Thermomix for two and a half minutes at a temperature of 90 degrees. Pour through a sieve into cup. Makes my day!

Lydia, Australia