Prana Chai
Huskee Cup
HuskeeCup. A coffee cup made for cafes, home users, and coffee drinkers on-the-go. Features coffee husk as a raw material. 
Natural | Single Unit Packaging | 8oz
Designed in Australia.
The Benefits

Repurposes waste material (coffee husk)
Keeps your coffee hotter for longer
Comfortable to hold & cool to touch
Durable & dishwasher friendly
Universal Lid & Saucer (sold separately)
Non-toxic (BPA free)
Easy to Clean
Stackable
What is Husk?
Coffee husk is an organic waste material that's produced at the milling stage of coffee production. By using HuskeeCup, you are helping to recycle hundreds of tonnes of waste material from the production of coffee.
How to make Prana Chai at home
Place two or three heaped teaspoons (20gr) of Prana Chai into a Turkish pot.
Fill with one cup of your favourite milk (we recommend Soy milk).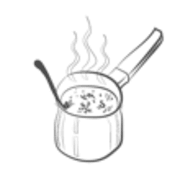 Stir until it is hot (but just before simmering).
Using a mesh strainer, pour your tea into your favourite tea cup.
REVIEWS
Surprising!

I'm not a fan of peppermint tea, but I am a huge fan of prana chai. So I was very surprised when I loved and continue to love the Peppermint Blend!

Fen, Australia
Outstanding Chai!

It all started in outback NSW, in a lovely little cafe called "The silly goat". The wonderful owner made me this delicious chai. Keen to know what it was, she told me all about it! As I was sipping away I got out trusty Google and found a starter kit and asked if they sold them. Sadly not. So I added it to my cart and the rest is history - 6 months down the track I'm still drinking it and just received my new cold brew flask. Can honestly highly recommend these guys and their products.

Lyle, Australia
Beautiful!

I love this kit!! The quality of the items is really nice. And even the box it comes in is beautiful. If you want to send as a gift you can have it sent directly to recipient as is, as the box is lovely and thick and pretty. I thought it was a bit if a waste buying the pot and the strainer etc as you can make do with what you have, but I did purchase as a gift and I now want one too, can't get over the lovely quality. It's great value!! Loved it xxx

Bre, Australia
My Morning Ritual

I just love your chai blends. I use my Thermomix to make a cup every day. A tablespoon of chai then pour in a cup of water complete with a big splash of soy milk. Crank up the Thermomix for two and a half minutes at a temperature of 90 degrees. Pour through a sieve into cup. Makes my day!

Lydia, Australia